TANGO BEGINNERS
Friendly & Professional
Get the best possible start to tango with award-winning teachers, David & Kim Benitez
We love teaching beginners and will make you feel welcome and at ease from your very first class … we promise!
Read through your class options below, check out our video and browse the answers to the questions we get asked most. We can't wait to meet you!
Beginners Weekly Classes
Wednesdays in Soho
Head down to Soho on a Wednesday evening and you'll find us. 
There are no start dates – you can join at any time. And whilst we'd love you to join us every week, you can also simply turn up whenever you're free. It is that flexible!
Saturdays in Soho
Join David & Kim for their popular Beginners Tango Crash Course … the longest running of it's kind in London.
 BEGINNERS PRIVATE CLASSES
In Studio or Online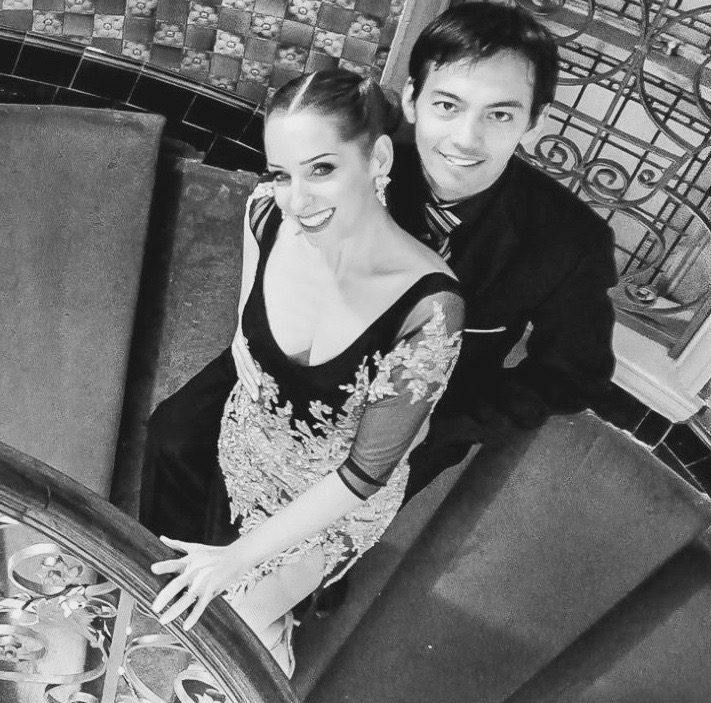 MEET DAVID & KIM
It's nice to meet you!
David & Kim are one of the UK's best known tango couples and have been a teaching team for 17 years.
They love teaching beginners – yes even those who think they have 2 left feet! – and this really comes across in their classes. They break everything down into easy bite-sized pieces and create a warm, caring and fun class atmosphere.
You'll be surprised how much you learn in just one class. You'll leave feeling inspired, invigorated … and wanting more!
"the happiest place in London" – Milena
Tango was love from first try! Our experience could not be better with David and Kim, who are truly passionate about what they are doing. Thank you for helping us make our first steps in tango, for being so encouraging, cheerful and kind and just the greatest people ever!  You won't find a better place to get an experience of a lifetime!
Oksana
"Not only the best tango performers in London but also the best teachers. Teachers who actually understand body mechanics enough to explain things in a language that beginners can understand & use. The classes are warm, friendly & the highlight of my week. They are charming, have a wonderfully located school & have created a warm & caring community around them."
James Douglas
SPREAD THE WORD!
Tell your friends about us and get a 10% discount for each friend who makes a purchase!
Find the answers to the most common questions … or send us a message below and ask us direct! We're always happy to help!
DO I NEED A PARTNER?
Absolutely not!
For our studio classes, we'll find a partner for you. For online, simply choose our solo option and let's get started!
DO I NEED ANY EXPERIENCE?
None whatsoever!
It is often said that if you can walk, you can tango! We'll break things down into simple, logical pieces. You'll feel like you're dancing in just one class!
DO I NEED TO COME WEEKLY?
There's no need at all.
It's easy to worry if you miss some classes, but it is always possible to pick up where you left off. Start – and re-start – at any time!
WHAT SHOULD I WEAR?
Anything comfortable is fine.
For footwear, we'd recommend leather-soled shoes, and (if you're female) a pair of high heels. There's no rush to get a proper pair of Argentine tango shoes (but if you're interested in seeing our collection click here)
ARE THERE AGE LIMITS?
Not at all.
In fact, one of our favourite things about tango is that it attracts people of all ages … from 18 to 80 plus!
A BOOST TO YOUR LIFE!
Many students gain much more than a new skill when they join our classes.
Tango is a life-enhancing activity. It is an escape from every day stresses and is an outlet for emotions. In scientific studies on mindfulness, tango comes out top. Yes, it even beats meditation!
And if that wasn't enough you'll also discover a friendly, enclave of like-minded classmates and – if you want it – a fantastic boost to your social life.
We regularly hold social events outside of our class. Click on the link below to find out what's coming up soon.
You may even find yourself wondering how on earth people get through life without tango! 
SEND US A MESSAGE
Got a question about learning tango with us? We'd love to help!